Rockin' the Role You're Given
For the past few months, my daughter's fifth grade class has been learning business and life skills with lessons developed by Junior Achievement. They have learned about various jobs, how to write a check, and how to track a budget. The culmination of the unit is a full day at Biz Town, a mock village set in a warehouse in Edison, NJ. During that day, each student portrays a job—town mayor, newspaper editor, bank teller, insurance salesperson, trend shop worker, health care provider, etc. The kids do their jobs, and during their "breaks" they need to do "necessary" things like deposit their paychecks at the bank, go to the health services center to get a check-up, and buy insurance. They can also use the time to spend their earnings to buy chips at the mock Chick-Fil-A, buy a stress ball at the Trend Shop, pay a dollar to request a song by the DJ, donate some of their earnings to one of the village charities, etc.
About a week before the trip, students get their job assignments. It was obvious at pick-up time what day roles were assigned. Some kids bounded out the school with huge grins because they got their first choice, but there were many, many more pouty faces of those who were dismayed with their jobs. My daughter was assigned the Savings Officer in the bank—not a job she was hoping to get.
It took a few days for her to come to terms with her role. My husband and I tried to excite her by telling her that everyone would need to come to the bank to deposit their paychecks, so she was sure to see all her friends! We reminded her that her brother's friend, who was the CFO of the newspaper at Biz Town two years before said he was so stressed and busy that he didn't have time to eat—and that she would surely have time to eat lunch and visit the Trend Shop! We reminded her that some of her close buddies were her coworkers at the bank. None of this helped, until SHE decided that she was ok with it.
Then, a few days before the fieldtrip, she asked to borrow my blazer. She asked me to help her put her hair in a bun. She asked if we had any dress-up glasses she could use. We found a pair of free sunglasses we had received from NJ Transit, and we popped the tinted lenses out. She found a brown Sharpie marker and colored over the NJ Transit logo on the sides. Then she got a pencil and stuck it in the bun on top of her head, and filled my reusable coffee cup with water. She pulled a TV table and chair up in front of my husband and me, and said in a proper voice, "Welcome to the Investors Bank. How may I help you?" as she looked up over her "glasses" and click-clicked away at her calculator.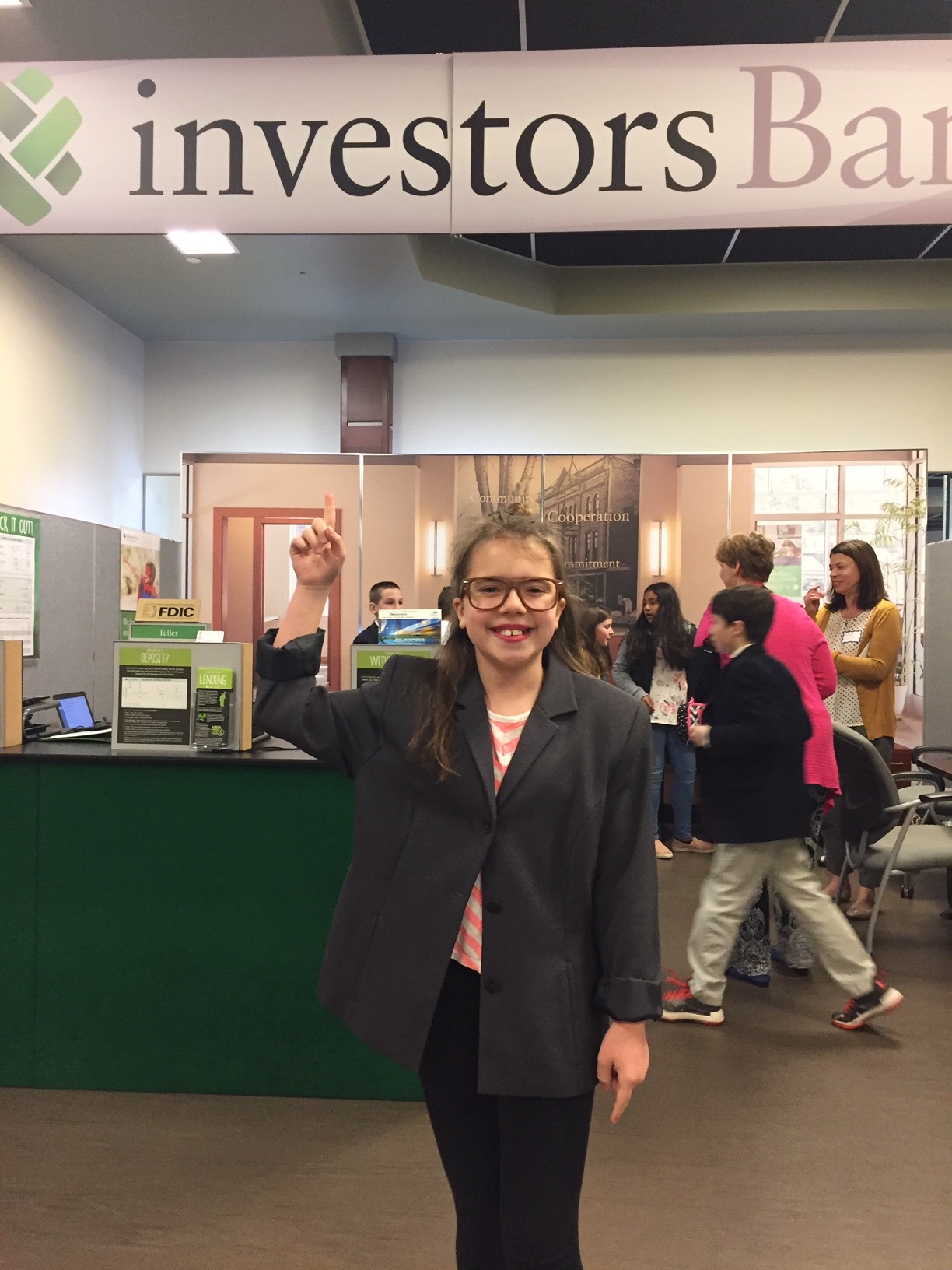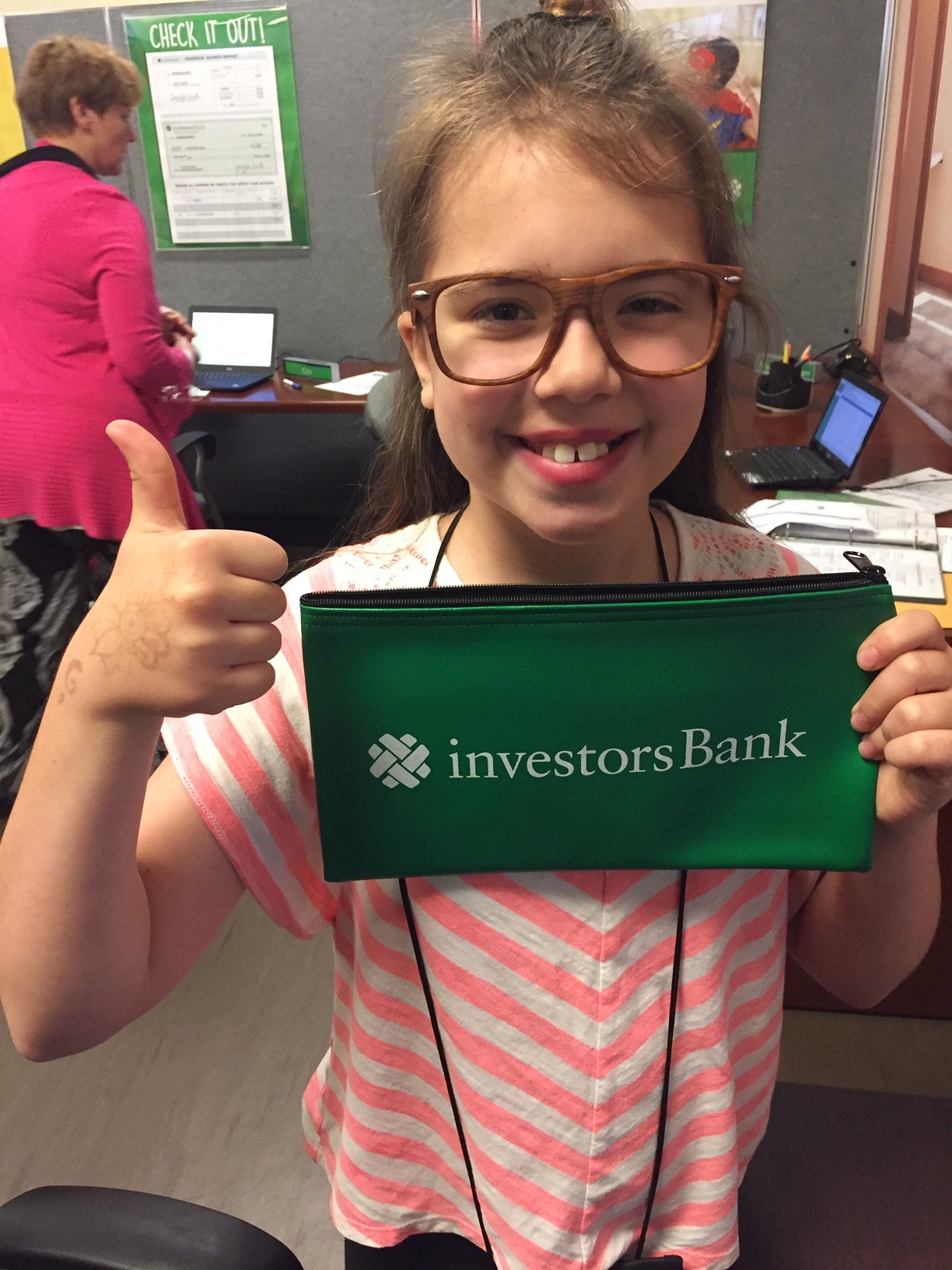 She was given a role, and she decided that she was going to go with it, and be the best darn Savings Officer she could be! My daughter has been in several local plays, and before auditions, we always talk about how she may not receive the role she hopes for, how the director has a vision for what a character might be like (tall/short, blond/brunette, old/young), and there might be nothing she can do to fit that character. The director will place her where she is needed to make the play a success, and that might not be where she wants to be. But she can take that role and develop that character the best she can.
And so she did the same at Biz Town! She wore the blazer and her hair up in a bun. She greeted each customer with a smile, and click-clicked away at her computer all day long. She definitely rocked the role she was given!