Our Hike at Bushkill Falls
A few weeks ago, on a beautiful summer Saturday, we headed out to Bushkill Falls, known, as the brochure states, as "the Niagara of Pennsylvania." We'd been there a few times, and have always enjoyed it, and this trip was no exception.
Bushkill Falls is about an hour and 20 minutes from Madison, in Bushkill, PA, along Rt 80 into PA, then up Rt 209. Inside the complex, there are several picnic groves, some with grills, so be sure to bring your picnic lunch to have before your hike. You can also play mini golf, take out a paddle boat. do a mining maze, and mine for gemstones, all for an additional fee. At the top of the hill, here are several souvenir shops, a Native American exhibit, snack stand, and an ice cream parlor.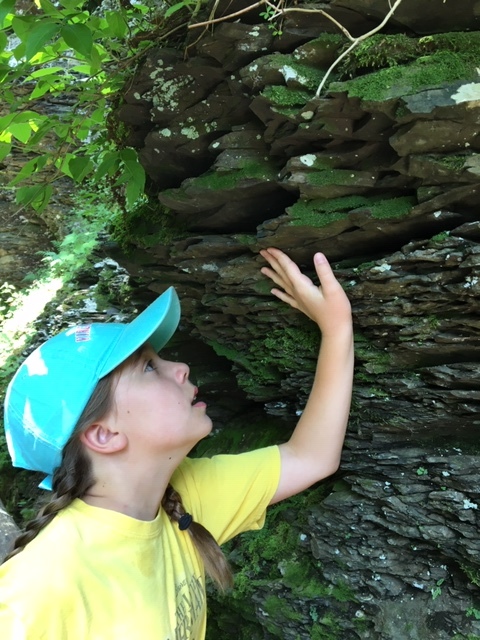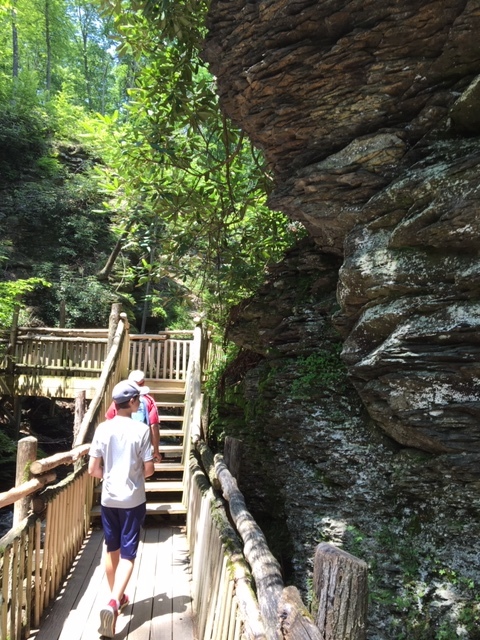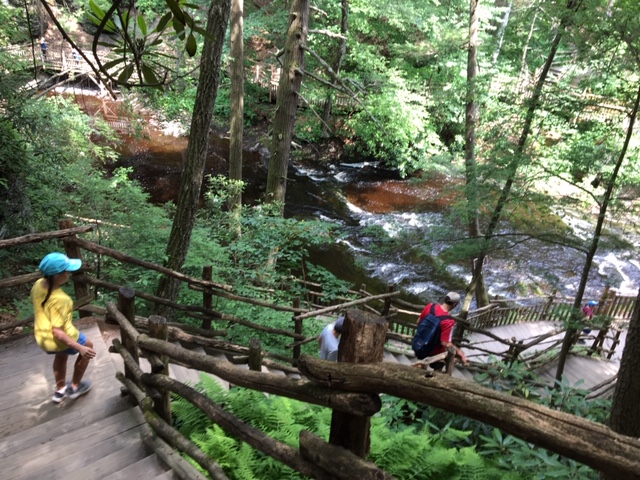 You need to pay to go along the hiking trails to see the falls (see current pricing below), but it is definitely worth it as the trails are clean and well-maintained. After paying the entrance fee, you go through a building with a display of taxidermy animals. Outside, you hike through the woods, a bit, then as the trail heads down hill, you have several choices of trails — ranging from 15 minutes to 2 hours 30 minutes. The Green Trail is 15 minutes long, with a view of the main falls. There's no climbing required, but there are steps. The Yellow Trail (45 minutes) gives you top and bottom views of the main falls, as well as another falls, a glen, and a canyon. The Blue Trail is about 1 hour, 15 minutes, and has a view of another falls. The Red Trail is for avid hikers. It is about 2 miles long, takes you to each of the eight waterfalls, and takes about 2 hours 3o minutes to complete.
We decided to take part of the Red Trail to the full Blue Trail. It was a beautiful trail that took us over three bridges that crossed the Little Bushkill Creek and had great views of several falls, both from the top and the bottom. The bridges and paths are beautifully lined with fencing made with branches. I always think it has a very Japanese feeling and serenity.
Along the quieter sections, we took a stop to poke around the edge of the creek. We discovered several casings from insect larvae stuck on the rocks and tree trunks. We later identified them as dragonfly and stonefly larvae casings.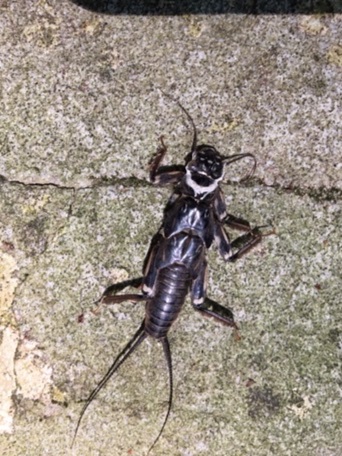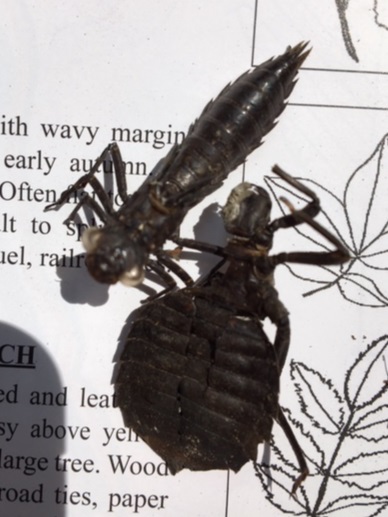 Further along, the trail veers away from the creek and deeper into the woods. There is a nice field of rocks that people have piled up in multiple places. It was a great time to stop on the bench for a snack and a rest as the kids tested their rock-balancing skills. There is also a beautiful spot with a view of the mountains. We also paid an extra $3 to do a type of scavenger hunt. The kids had a card with letter blocks. As they hiked through the trails, there were hole punch stations that matched the letters. If they punched 10 letters (which they did during our trail), they got a special pin at the end of the trail.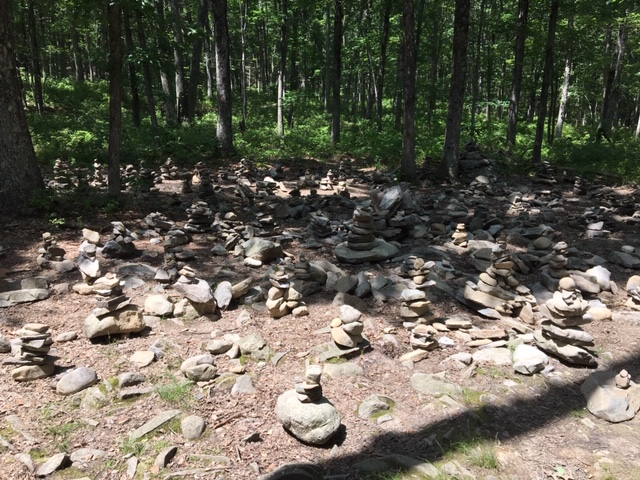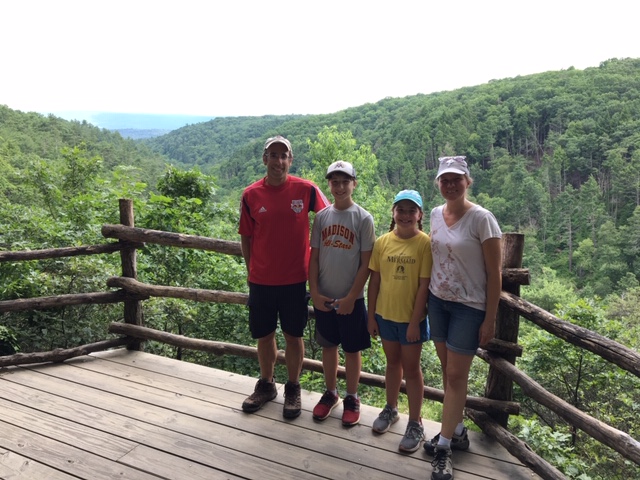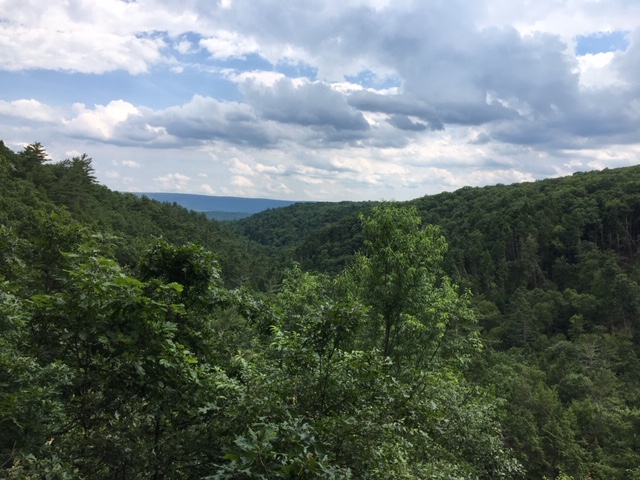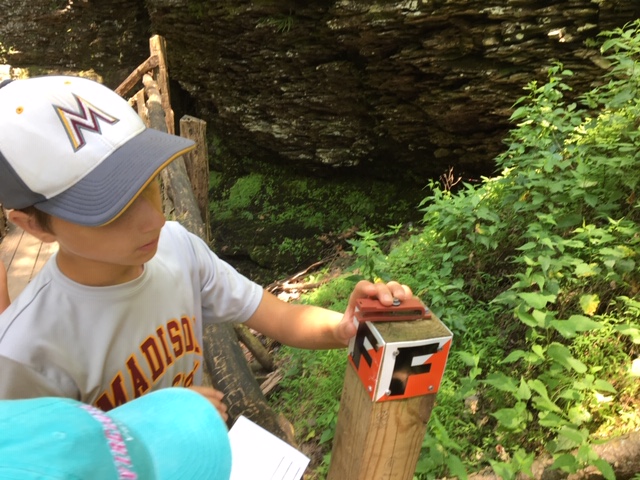 At the end of our hike, we treated ourselves to an Italian ice at the snack stand. Since it had started to rain and we were all pretty tired, we decided to skip the Native American exhibit, mining maze, mini golf, and paddleboats this trip. Maybe next time, as we always enjoy a day trip to Bushkill Falls!
—————————————————————————————————————————————————————-
Bushkill Falls is open April through October — November weather permitting (check the Website for exact times each day). It is located on Route 209 in Bushkill, PA.
Pricing:
Adults weekday: $14.50/ weekend: $16.50
Seniors (Ages 62 and older) weekday: $13.50/ weekend: $15.50
Children (Ages 4 - 10) weekday: $8.50/ weekend: $8.50
Children (Ages 3 and Younger) Free
Paddleboats, mini golf. maze, mining for gemstones, and punch card scavenger hunt are additional charge.
For more information, visit www.visitbushkillfalls.com