Our Game from Bygone Days
A few months ago, we boxed up everything in our living room to get it painted. We've lived in the house more than 14 years, and have two kids (ages 13 and 10), so that meant quite a lot of boxes! Books, papers, games, toys, videos, Xbox games—all needed to be cleared out. I've been slowly going through box after box, putting some things back in the shelves, donating some, and trashing a bunch.
Yesterday, I came upon a poster board folded into four. I unfolded it and discovered a hidden treasure.
Ok, I know, it doesn't look like much. In fact, it looks like it should go right into the trash. But it was a glimpse into the past—about 8 years into the past—when my kids were 5 and 3.
When my kids were little, we'd often make up our own board games. I can remember twisting red, yellow, blue, and white pipe cleaner pirates during my son's pirate fascination phase. We then wrote cards with pirate-themed instructions and rules for a game that entertained us for a few hours. When my in-laws stayed at our house while their town was evacuated during a hurricane, they made a game about evacuating for a hurricane. Players had to gather belonging, stop for gas, sit in traffic, etc. before they made their way to higher ground.
This game we cane across was more of a "let's learn to follow the rules" game. It gave us a good giggle to see the type of mischief the kids would get into when they were young. Basically, it was a Chutes and Ladders game. (I can tell because of the ladder my son drew in the middle.) But it had a twist—you could land on a square that gave you instructions allowing you to use the sticky note as a stepping stone to help you get to new places. (Pretty cool twist, if you ask me!)
Then comes the instruction squares… The instructions were written on the underside of each sticky note placed around the poster board. Some were "good" actions that allowed you to have an extra turn. Others were "bad" actions where you lost a turn or were sent to jail. Some of the notes were general, but many referred to specific situations. The kids and I spent about 20 minutes reminiscing about what they did when they did when they were little. Here are a few examples: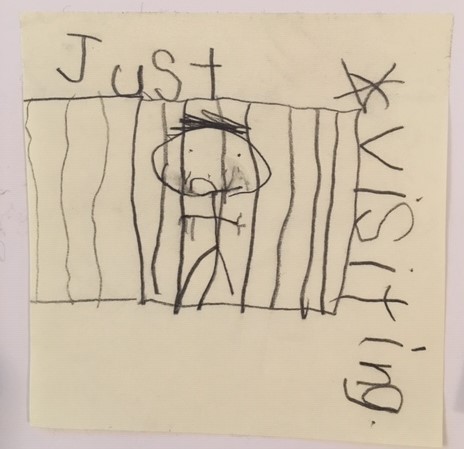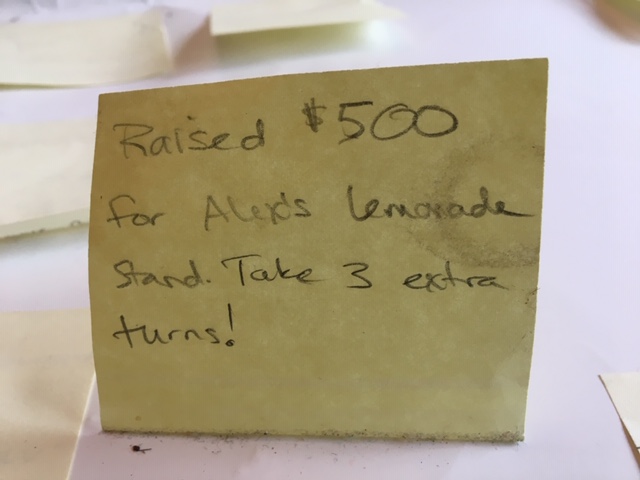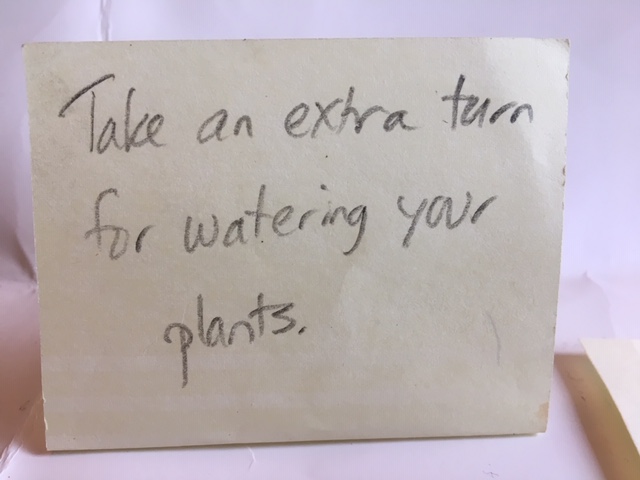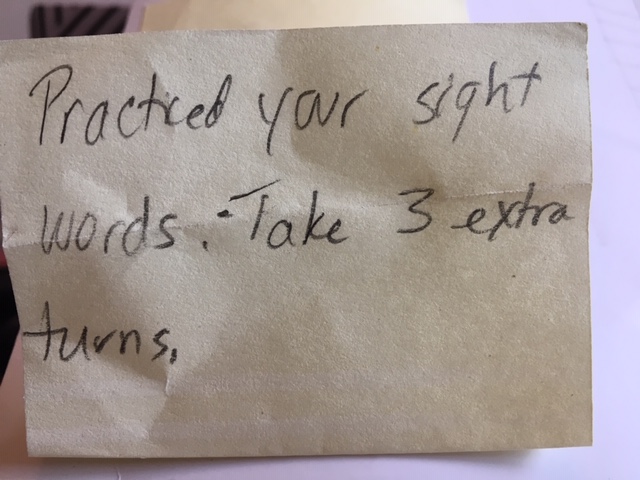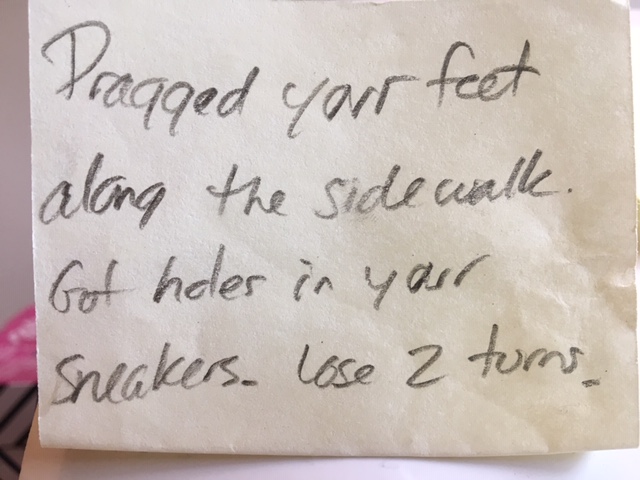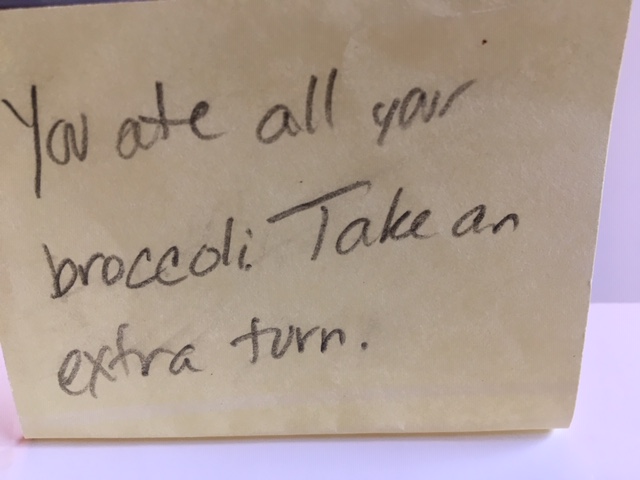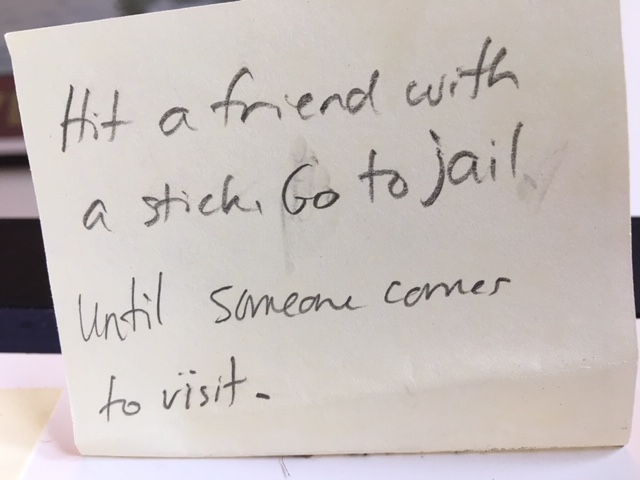 GOOD CARDS (allowing you to take extra turns)
Raise $500 for Alex's Lemonade Stand (yes! They did! Even got their photo in the local paper!)

Wrote a thank you note to Nanny and PopPop to say you love them

You helped your mom clean the living room. It's not a pigsty anymore. (referring to the fact that I would tell the kids the room was a pigsty. My son told his friend at school that the room was a pigsty, and when the kid came over for a playdate, the first thing he said as he walked in the living room was "You're wrong — the room isn't a pigsty." I was so embarrassed!)

You watered your plants

You talked to the new kid in school

Practiced your sight words

Helped your mom unload the dishwasher

Ate all your broccoli

Got dressed by yourself
BAD CARDS (instructing you to lose a turn, or, for really bad offenses, go to jail)
You didn't stay in your bed (my son's nightly routine)

Never give a three-year-old a dollar bill (the time my son gave my daughter a dollar and she ripped it to pieces)

You yelled during bath time (another nightly occurrence)

You and a friend picked off pinecones from a living tree. (yes, another true example)

Dragged your feet along the sidewalk. Got holes in your shoes. (Every. Single. Day. on the walk home from school. Ugh! He went through so many pairs that year!)

Ran away from Mom in a parking lot

Cut someone else's pencil in half

Picked a flower from a neighbor's garden

Rode your bike without a helmet

You took a nickel from your mom's car without asking

Hit a friend with a stick

Refused to practice your sight words

Crossed street without looking and without a parent
I'm happy to report that many of these offenses no longer apply. The kids no longer hit friends with sticks, and they definitely know all their sight words. They also both love broccoli! I am also happy to report that this board game will not be going into the trash pile. (Take that, Marie Kondo! This sparks joy for me!) I'll stash it away, hidden in the bookcase for us to find many years from now to, once again, relive these precious younger years.