Family-Favorite Fall Activities
Our neighbors recently moved from Texas, close to the Louisiana border, where she says the signal of the fall season is that it is constantly wet. "Any fall foliage?" I asked. "Nope," was her response.
Having grown up in suburban Philly, and spending most of my adult life in NJ, NY, and PA, it is hard for me to imagine a fall season without the bursts of autumnal foliage lining the streets and hillsides, visiting apple and pumpkin picking farms, and planning an alternate Halloween costume in case the night is extra crisp.
So here are my favorite things to do in fall in the Madison area:
Fall Foliage Hike: So many places to hike in the area, and every trail will give you beautiful fall foliage. Here is a blog about my favorite places to hike. For the fall, I think my top choice would be Hacklebarney State Park in Long Valley, about 40 minutes from Madison. Do a nice hike there, then reward yourself with apple cider and cinnamon donuts at Hacklebarney Cider Mill in Chester on the way home. While you are there, watch a cider-pressing demonstration, pick your own pumpkin, and try the corn maze.
Madison Halloween Parade and Town Trick-or-Treating: There is nothing more adorable than the Madison Halloween parade, which will be held Saturday, October 26, 2019, starting at 12:30. Families and kids (and I've seen some dogs, too!) dress up and parade from Hartley Dodge Building, along Kings Road to Green Village, then along Main Street. The parade is followed by magic show, then trick-or-treating around area businesses. Another great event is the Madison Trunk-or-Treat, sponsored by and a fundraiser for the Madison Volunteer Ambulance Corps. For 2019, it is on Friday, October 25 @ 6pm. You can host a car for $10, or participate as a walker for $2. Click here to register. (For more details, see image below.) Don't worry, these events don't replace the neighborhood trick-or-treating on Oct. 31. They just give you a chance to use your costumes again, and get even more candy (while also meeting friends around town and visiting local businesses).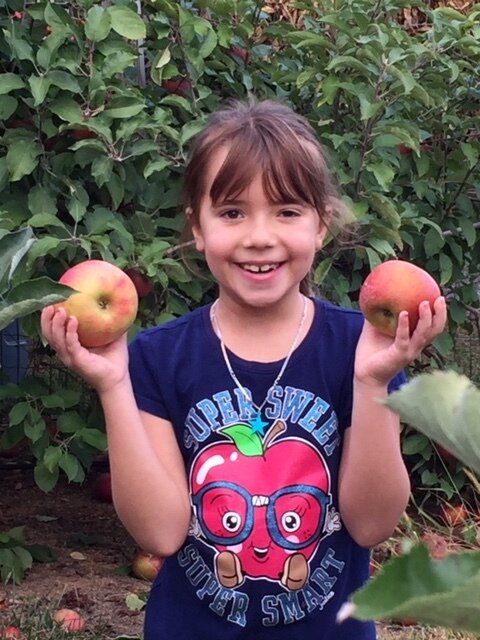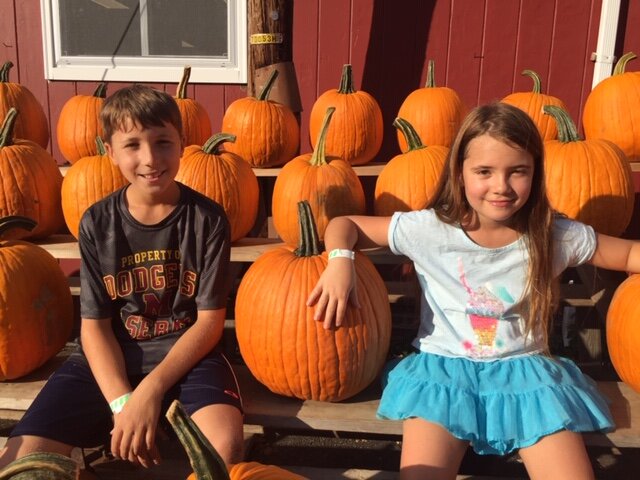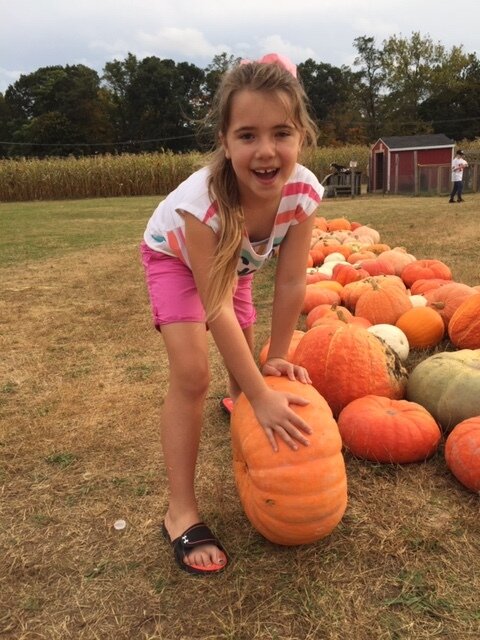 Apple and Pumpkin Picking: Apple picking is one of our fall family must-dos. As a kid, I never went apple picking. Maybe it wasn't big in my area, or maybe it is a more recent trend. Different apples ripen at different times, so if you have a specific apple you love, check the farms' Web sites of call to see what apples are currently ripe. Be sure to also check out the markets at the farms for pies and cider donuts. I often pick up an apple crisp mix so we can make a delicious desert with our freshly-picked apples.
There are so many farms to choose from. Everyone you ask has a favorite. Maybe they like small/low-key mom-and-pop farms, like Hillview Farms in Gillette that has a small farm stand and some chicken coops. Maybe they like ones that offer more kid activities like Wightman's Farm that has pumpkin sling shots (my family's favorite), mazes, and food options. You can also go all out at Alstede Farms for petting zoo, pony rides, a corn maze, little kid activities like a sandbox filled with dried corn, and hayrides. For some, Alstede is too over the top and busy, but others like it. To each his own. I've heard great things about Riamede Farms in Chester, though we haven't gone there yet. Also see the links to other farms in this blog mentioned above and below as many of them have apple and pumpkin picking.
Hayrides (regular or haunted): Many of the local apple-picking farms offer hayrides. Some are the usual tractor-pulled ride around the orchard, while others offer "haunted" or scary versions of various degrees of scariness, with words like "terror" or "fear" in their names (definitely NOT what I want to do, but, hey, for some people, that's their cup of tea!). A few years ago, my kids and I went on an afternoon haunted hayride at Conklin Farms in Montville. The tractor pulled the hay trailer through barns and corn fields as people in zombie makeup or with "Jason" masks and chainsaws swung from rafters or trees above you, and sometimes jumped onboard the trailer!
Corn Mazes: Many local farms have corn mazes. We've been to the one at Alstede Farms in Chester a few times. Once, with my son's Cub Scout troop, we went at night and also enjoyed a large bonfire and marshmallow toasting when we were done. (Harvest Moon Hayride and Nightime Corn Maze event — see Web site for details.) The farm cuts the field in the shape of a theme (I remember one year it was a baseball theme), and then you are given a map to find information plaques throughout the maze to help you find your way out.
Carved Pumpkin Illuminations: We have never been to one of these, but they definitely look cool. Morristown has a Pumpkin Illumination event (this year, October 27, 2019) where you bring your carved pumpkin to the Vail Mansion's reflecting pool at dusk, then the pumpkins are lit and arranged around the pool for the evening. Madison has had a Pumpkin Illumination on the steps of Hartley Dodge building and in the past, too, but I don't see any info on that online yet.
If you want to go all-out, you can check out the Great Jack O'Lantern Blaze in New York to see over 7,000 hand-carved, illuminated pumpkins around the mysterious Van Cortlandt Manor's 18th-century buildings and landscape. We've never been, but the videos look pretty cool!
Run a Fall 5K: It seems like fall has the best weather for a 5K. There are so many around this season! Maybe it isn't so much the weather as trying to balance out the amount of candy we eat at Halloween! Many have a Halloween theme, such as the Action for Distraction Skeleton Trail Run for bone health awareness and research on Saturday, October 19, 2019, that has costume contests and "scarers" placed throughout a wooded section of the trails. The Madison Area YMCA is having their The Mind Matters 5K on Sunday, October 20, which will also have family activities and encourages runners to dress in costume. The Giralda Farms Run is Sunday, November 10. And don't forget to wear your pilgrim and turkey outfits to the Morris Township Turkey Trot on Thanksgiving morning, Thursday, November 28!
There are so many seasonal things to do in the area! What are your favorites?