America's Grow-a-Row
Recently, my friend came across an amazing volunteer opportunity we could do with the kids at America's Grow-a-Row (AGAR). AGAR has farms located in Pittstown (main location), Milford, and a few other locations, where fruits and vegetables are planted and harvested by volunteers, then delivered to people in need. Since AGAR started in 2002, it has donated over 7.7 million pounds of fresh produce to families in need in New Jersey, New York City, and eastern Pennsylvania. AGAR also holds free farmer's markets in food desert areas, such as Newark and Camden, where people do not have access to fresh produce. In addition, volunteers rescue produce that is "not quite retail perfect" from local farms and deliver them to area food pantries. They also teach children from families in need about nutrition.
America's Grow-a-Row has various events for volunteers that are listed on their Web site, www.americasgrowarow.org. There are Community Harvest Events (which we did) where families, individuals, and other groups can register to come and harvest. All ages are welcome, and kids ages 14 and under need to be supervised by an adult. (The next one is October 23, from 4:30-6:30pm). Volunteers (mostly high school students) are also needed to be counselors on Kids Farm Days, when children from low-income area are bused to the farm for the day to learn about nutrition, play games, and harvest produce to take home to their families. Corporations, scout groups, and schools can also set a time to come and help with the harvesting. In addition to these community volunteer options, AGAR holds Recipient Harvest days, when the people who have received the produce can come to the farm to give their time to help harvest. They each go home with a bag of produce for their families.
This past Tuesday, on the 17th anniversary of the September 11 attacks, America's Grow-a-Row held one of their Community Harvest Events as part of the National Day of Service and Remembrance. Despite the dreary weather, my friends and I decided to take our girls and their friend to help harvest. (We had preregistered the week before.) Fortunately, the weather held up, and we were all able to experience how much a few volunteer hours can help those in need.
When we first arrived, we pulled in behind a huge bus-load of Delbarton School soccer players who came to help harvest the hot peppers (while wearing gloves, of course!). We checked in, and waited until all the volunteers arrived to start the brief orientation. There were about 35 volunteers that day, probably about 10 of whom were kids. Some came with their company (check out the Web site to see all the companies that have volunteered), others came as families, and others were individual volunteers. I think we were the only ones who had never been there before.
We had a brief orientation about the background and mission of America's Grow-a-Row (click here to find out more), and heard some personal stories from the founder and workers about how much the recipients need and appreciate the fresh produce. We then had a demonstration about how to pick sweet peppers, what we were picking that day. Then we each grabbed two baskets and headed out to the fields.
The plants were brimming with peppers! We were careful to only pick the larger peppers with no or minimal soft spots. We picked for a full hour and a half. I wasn't sure how many peppers we would get from the approximately 10 rows of plants, but I was definitely astonished with the sheer volume we were all able to pick! We filled basket after basket with huge ripe green and red peppers! The girls all started with picking, but by the end they preferred to be the basket runners—picking up full baskets from the field and delivering them to the truck. At the truck, the workers dumped the baskets of peppers into boxes, which they taped up once they were full. By the end of the time, they estimated that the whole groups had picked 2,800 pounds of peppers, which is about 12,000 servings! The boxes were going to be delivered to a free farmer's market the next day.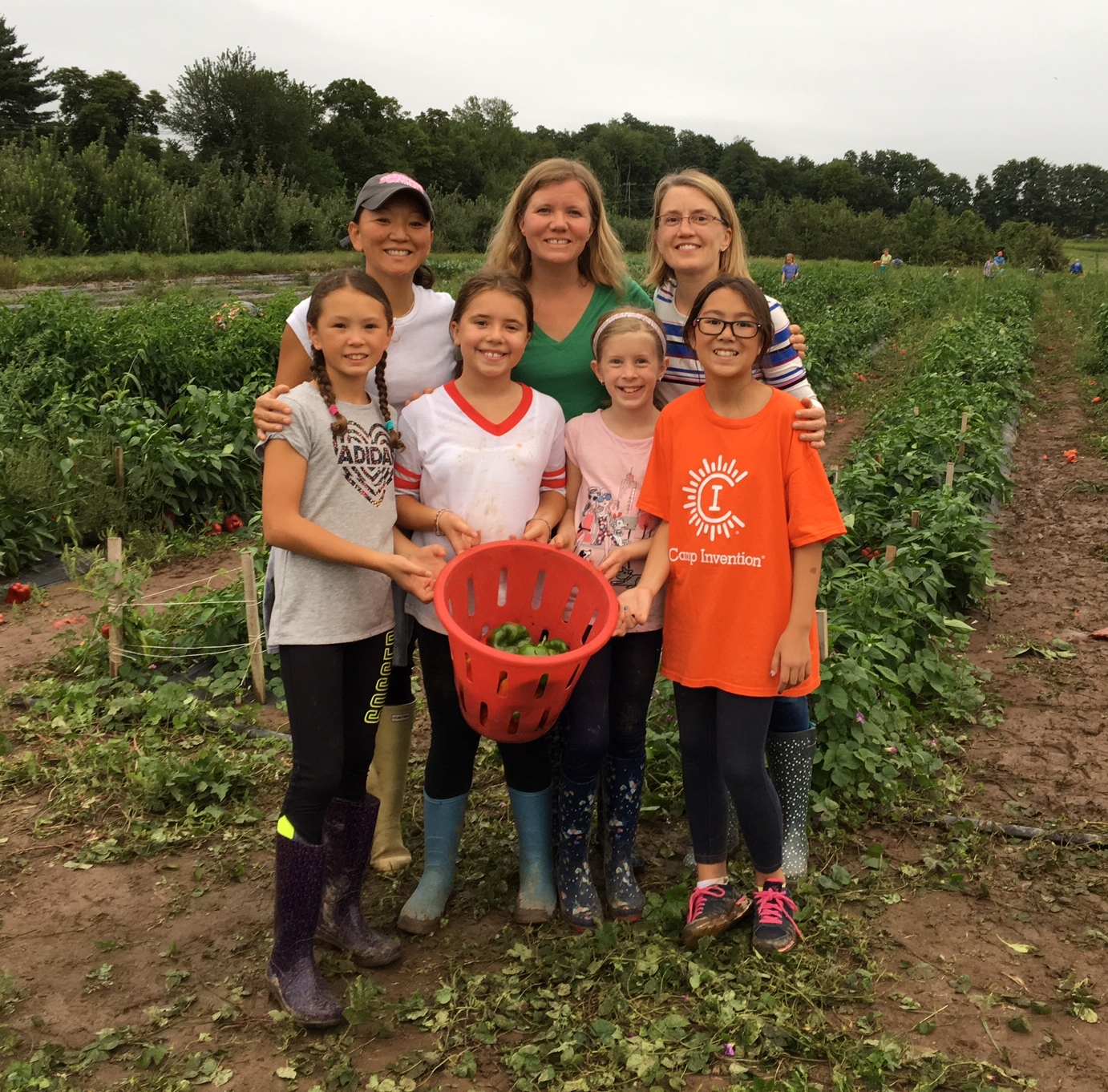 On the drive home, we were all sweaty and dirty from our time in the fields. The girls had so many questions and comments about the day. It really opened their eyes to the fact that some people do not have the money or access to fresh fruits and vegetables, and how important it is to have fresh produce as part of a healthy diet. They also learned that their tiny hands and a few hours of hard work can make a huge difference in helping someone.
Thank you, America's Grow-a-Row! We'll see you again soon, I'm sure!